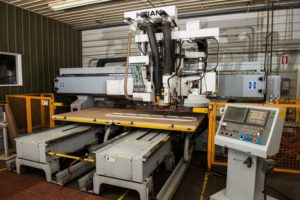 As experts in close tolerance machining, we are frequently asked what tolerances we can hold. The tolerance a part can hold is dependent on several factors, including part configuration, material choice, and the type of machining operation and technique. Part design can have the biggest impact on tolerances, and improvements during the design phase can not only help achieve tight tolerances, but can also improve manufacturability, quality, and customer satisfaction.
At Reading Plastic, we have over four decades of experience in close tolerance machining. With our know-how and ultra-precise cutting tools, we can achieve the tight tolerances your project demands.
Aspects of Part Design that Affect Close Tolerance Machining
Overall size of the part – It is easier to hold tight tolerances in smaller areas, so the larger the part the more difficult it will be to maintain close tolerances. Most plastic machined parts typically have dimensions that are 12" or less. Parts larger than 12" are considered big.
Round parts hold tolerances better than flat parts – It is easier to hold size with round parts due to the efficiency of material removal in CNC turning and the material manufacturing processes. Some of the tightest tolerances are achieved on round plastic parts, up to +/-.0001.
It is difficult to keep flat parts flat – Careful consideration of material, geometry, and approach is required for flat parts. Since flat parts are so situationally dependent, there are few rules of thumb to govern their design. However, we do know that the thicker the part, the greater the chance of maintaining a target flatness. Flat parts require special handling during machining to prevent seeing a bow. If your part needs a flatness better than .005, call Reading Plastic to discuss your requirements.
Thermal expansion of the plastic – Because most plastics have high thermal expansion rates, the application environment can have an effect on tolerances as well. While these plastic parts can hold tight tolerances in a climate-controlled environment, if the part are exposed to high/low temperature extremes they could expand and contract outside their tolerances. Fillers can be used to control thermal expansion, and there are plastics with lower coefficients of thermal expansion that may be a better choice for your application. As experts in specialty plastics, we can help you decide which plastic best suits your close tolerance machining needs.
Close Tolerance Machining is Our Speciality
Reading Plastic has produced close tolerance parts for clients all over the world for a wide array of applications. Whether you need expert CNC routing, cutting, turning or sawing, Reading Plastic will deliver the precise, dependable plastic parts you need. If you have a project that demands close tolerance machining, request a quote or call us today at 610-926-3245.