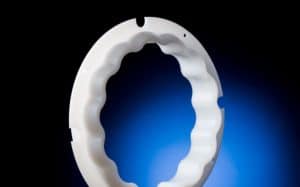 On October 5, 2016, the FDA issued a revised version of the Manufactured Food Regulatory Program Standards (MFRPS). Since 2007, each state has used these standards to ensure local food manufacturers implement practices that reduce foodborne illness hazards, which afflict as many as 48 million Americans each year.
The new MFRPS, which you can read here, include new sections and appendices, newly defined terms, and updates to current standards. What does it mean for food and beverage manufacturers? They must comply with even stricter regulations than in the previous decade to keep their operations up to code.
Our custom plastic parts for food manufacturers are made of food-grade plastic that ensures maximum hygiene and non-contamination of foodstuff. In this blog, we'll explain the advantages of integrating custom plastic parts into food and beverage manufacturing, which go far beyond compliance with FDA standards.
Benefits of Specialty Plastics in Food & Beverage Manufacturing
 Why integrate food-grade specialty plastics into augers, hoppers, rollers, sprockets, chute liners and other food processing parts? In addition to ensuring compliance with FDA regulations, your operation will benefit from:
No Need for Food Grade Lubricant. Keeping components lubricated is a constant battle for some food and beverage operations, not to mention the steep cost. The sliding properties of specialty plastics mean these parts no longer require lubrication to function as desired.
Reduced maintenance costs. Unlike metals, custom plastic parts aren't susceptible to corrosion and demonstrate remarkable load capacity, frictional properties, wear resistance and chemical resistance. An operation that replaces key components with machined plastic parts could see maintenance cost reductions from fewer equipment breakdowns.
Shortened certification time for installation. The use of food-compliant plastics has led many clients to save time during the certification of equipment.
Better hygiene of equipment. Chemical resistance against cleaners results in better hygiene overall, even as the parts work harder and longer than metal counterparts. Excellent release properties ensure no food clings to parts during contact.
Improved efficiency. Excellent sliding properties and high wear resistance mean custom plastic parts improve the efficiency of sliding elements, such as those used in bottling and canning lines.
Better design capabilities and higher level of automation possible. These advantages arise from low material coefficient of linear thermal expansion (CLTE) as well as tighter tolerances.
Higher shelf time for food. For example, our dairy-compliant materials provide a lower level of contamination that allows more shelf time than products handled with traditional materials.
See a list of the plastic materials we machine for the food and beverage industry.
Reading Plastic Machining & Fabrication: Your Plastic Experts
We'd love to talk to you about your operation and how we can improve it with custom plastic parts. For decades, we've been machining specialty plastics for clients across the globe; we're confident we can use our experience and expertise to craft high-performing parts for your project.
When it comes to compliance, we're known for our ability to adhere to FDA standards and hold close tolerances.
Start the conversation at (610)-926-3245 or email site2@readingplastic.com.