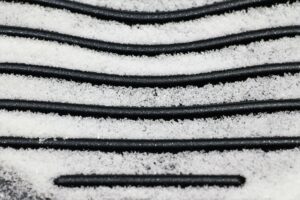 Polytetrafluoroethylene, or PTFE, is a powerhouse synthetic fluoropolymer that has outstanding chemical resistance, excellent performance in extreme temperatures, and low outgassing properties. The compound has the lowest coefficient of friction against any known solid, which makes it both non-stick and self-lubricating. It is impenetrable to corrosive acids, highly flexible, hydrophobic, and has high electrical resistance and dielectric strength. Given these unmatched properties, it is no surprise that custom PTFE parts are in high demand in the aerospace, industrial, food and beverage, textile and biomedical industries, and beyond.
PTFE can be pure, filled or modified, depending on its application. It is critical to choose an experienced manufacturer to help you choose the right form of PTFE to meet your needs.
PTFE: An Accidental Invention
Interestingly, this high-performance plastic was accidentally discovered by chemist Dr. Roy J. Plunkett at the DuPont Company's Jackson Laboratory in 1938 while he was working on alternative refrigerant gases. After leaving a batch of gas overnight, he returned to find that the gas had polymerized spontaneously, forming a resin with the lowest coefficient of static and dynamic friction of any solid. DuPont later branded this non-stick wonder polymer Teflon®.
What Can PTFE Be Used For?
When they hear the word Teflon®, most people think of non-stick cookware or special clothing material. But because of its excellent dielectric properties, almost half of all PTFE manufactured is used for wiring in the aerospace and semiconductor sectors. It also has many applications in the industrial space (plain bearings, gears, slide plates, containers, expansion joints, liners in hose assemblies, industrial pipelines, and more) due to its low friction, corrosion resistance and non-reactive properties.
Reading Plastic & Metal Specializes in Custom PTFE Parts
With Reading Plastic & Metal, you can be confident that your custom PTFE parts are being manufactured by a company that is committed to quality, workmanship and precision. From CNC machining to custom fabrication, we produce durable PTFE parts with the tightest tolerances to meet your needs, guaranteed.
Contact Reading Plastic & Metal at (610) 926-3245 or site2@readingplastic.com to order your custom PTFE parts today!