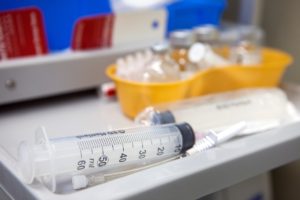 Medical CNC machining has revolutionized modern healthcare. Many of today's life-saving procedures would not be possible without medical plastic tools and devices. Medical devices require precise machining and have to meet strict standards, but CNC machining is uniquely suited to the task. With the ability to machine complex designs and smooth parts that hold tight tolerances, medical CNC machining makes today's most innovative medical procedures possible.
Plastic Medical CNC Machining Applications
Bone and joint replacement – These replacements used to be made from metal, glass or ceramic, but biocompatible plastics are a much better – and safer – solution. These plastic polymers are lightweight but extremely strong, able to replace knees, hips and even vertebrae. Most importantly, these biocompatible materials won't break down inside the body, nor do they run the risk of the body rejecting the implant. An added benefit of medical CNC machining is that there are no tooling costs and a short turnaround time, making it possible to produce one-off, patient-specific implants, rather than having to make do with mass-produced parts.
Unblock and repair arteries – One of the greatest advancements in cardiology is the expanded use of catheterization. With these long, thin tubes (catheters), doctors can clear arteries of obstruction with a tiny spiral-shaped implant called a vessel support. Doctors can also perform angioplasty (a procedure that helps improve blood flow through the artery) or place a stent (a tiny mesh coil or tube that keeps the artery open). Before these advancements, the only intervention options were open heart surgeries.
Prosthetics and implants – Prosthetic limbs used to be cumbersome with a limited range of use. By utilizing lightweight plastics and medical CNC machining, modern prosthetics offer greater levels of dexterity and usability, while greatly improving comfort for the wearer. Medical implants are also benefiting from medical CNC machining's ability to create small, complex parts, such as hearing aid implants and pacemakers.
The list of medical CNC machined parts is endless:
Disposable syringes
Respirators
Insulin pens
Dialysis machines and equipment
Surgical and dental instruments
Heart rate monitors
MRI machines
Screws and plates
Medication pumps
Reading Plastic Excels at Medical CNC Machining
As a leading high-end machine shop with over three decades of experience, Reading Plastic knows how to deliver precisely machined parts that meet strict standards. With a large selection of medical grade plastics, state-of-the-art CNC machines, knowledgeable staff, and strict quality control, we can meet all your medical CNC machining needs. We can also produce any size run you need, from prototyping to high volume parts. And because we are conveniently located within a day's drive of one-third of the U.S., we can deliver your parts fast. Call us today at 610-926-3245 or email site2@readingplastic.com to learn more.