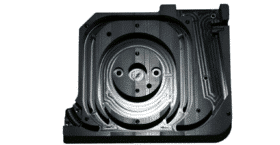 PVDF is a tough, stable, nonreactive engineering thermoplastic that excels in the most demanding applications. Its durability and superior chemical resistance make it the go-to plastic for everything from chemical tank liners to semiconductor equipment components. If your application needs a targeted solution, PVDF's unique, extensive combination of properties may be the answer.
Key Properties of PVDF Plastic
Extremely high purity
Excellent chemical resistance
Outstanding resistance to UV (sunlight) exposure and good all-around weather resistance
Excellent flame resistant
Excellent abrasion resistance
Low weight
High strength and good toughness
Good radiation resistance
Easy post-processing (such as welding & fabrication)
Extremely high electrochemical stability and good electrical insulator
High heat resistance
Low coefficient of friction
Low permeability to most gases and liquids
Good resistance to stress cracking
FDA compliant and completely non-toxic (can be used in repeated contact with food)
What Makes PVDF Unique?
PVDF is a semi-crystalline, high-performance, fluoropolymer thermoplastic. Semi-crystalline plastics have a very organized molecular structure and sharp melting points, which means they do not gradually soften as their temperature increases. Instead, they remain solid until their melting point is reached, and then they quickly change from solids to low viscosity or thin liquids that flow easily. Semi-crystalline thermoplastics typically melt and flow between 275°F to 335°F, but the specific melting point is unique to each plastic. For PVDF, it maintains its structure up to 300°F.
The fluoropolymer family of plastics has multiple carbon-to-fluorine bonded sections inside each molecule, making them very resistant to solvents, acids, and bases. PVDF is resistant to a wide range of aggressive chemicals, including:
Bases
Alcohols
Ozone
Mineral acids
Organic acids
Halogenated solvents
Aromatic hydrocarbons
Aliphatic hydrocarbons
Oxidizing environments
PVDF is also available as both a homopolymer and a copolymer. Homopolymer PVDF has higher strength and stiffness and a higher heat deflection temperature, while copolymer PVDF is less stiff but has superior impact and stress crack resistance.
Applications for PVDF
Machined PVDF components can be found in the aircraft, electronics, chemical, and architectural coating industries, as well as the specialty packaging industry for agricultural, industrial, and food packaging. Popular PVDF parts include:
Chemical tank liners
Fittings, seals, bearings and gaskets
Nozzles
Piping and tubing
Pump and valve parts
Semiconductor equipment components
When durability, heat resistance, and chemical resistance are needed, PVDF parts are up to the challenge.
PVDF Machining at Reading Plastic
At Reading Plastic, our expert staff can machine PVDF into the durable, precise components your business needs. Our ultra-precise cutting tools can handle even the most technical plastics, and all our parts must pass a comprehensive ISO 9001:2015 compliant quality inspection before shipping. Our work is trusted by the U.S. military, major metro transit systems, and can't-fail telecom operators.
Have a project in mind? Call us today at (610) 926-3245 or email site2@readingplastic.com.