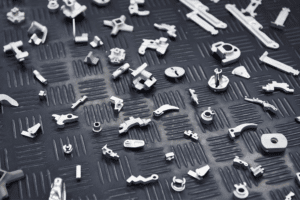 At Reading Plastic & Metal, we go above and beyond to make sure that you are completely satisfied, from start to finish. We are always looking for creative ways to improve production so you can realize lower costs, less downtime, longer part life, tighter tolerances – whatever your objective, we find smart solutions to make it happen. As a leader in small metal parts manufacturing, we specialize in several metal fabrication processes to manipulate raw metals into the right product for your application. We cut, shape and mold aluminum, brass, copper, titanium and stainless steel using advanced technology and know-how from our team of industry experts. Our methods include CNC machining, stamping and die-cutting. We are also a reliable OEM replacement part provider.
Small Metal Parts Manufacturing Services
Metal fabrication refers to any process that cuts, shapes, or molds raw or semi-finished metal into a final product. There are several metal fabrication processes that can be used, each of which depends on the starting material and the end product.
Stamping: Blank pieces of flat sheet metal are fed into a stamping press to form an indentation. Stamping operations include bending, punching, embossing, blanking, coining, and flanging.
Die Cutting: Straight lines are cut through metal with two blades to form a shape. This process results in clean edges and no chips with minimal material waste and is suitable for creating slender, delicate parts.
CNC Machining: Our metal CNC shop produces reliable, precision parts with signature tight tolerances to meet the highest standards. Utilizing the top technology and equipment, we provide CNC milling, turning, and grinding processes to meet your needs.
OEM Replacement: When your machines break down, you shouldn't have to wait for OEM parts to arrive. Reading Plastic & Metal has the capability to identify and replicate OEM parts in a timely manner.
Reading Plastic is #1 for Small Metal Parts Manufacturing
Our signature process ensures a smooth and successful project with no surprises. From our initial in-depth consultation, engineering and design services, and strategic development to our streamlined production, quality control, on-time delivery and post-sales support, we are with you every step of the way to guarantee that your precision metal parts are being machined to your exact specifications and you are 100% satisfied.
Reading Plastic & Metal has the expertise and passion to provide high-quality product at an affordable price. Contact us today at (610) 926-3245 or site2@readingplastic.com to discuss your next project.