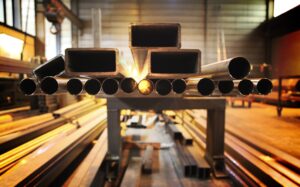 Stainless steel is one the most popular industrial alloys because of its excellent physical properties (such as high heat and impact resistance, excellent durability, and good performance at both high and low temperatures). But CNC machining stainless steel can be challenging because it requires carefully maintained tooling and machining to produce precision parts. At Reading Plastic, our expert machinists and fleet of advanced CNC machines allow us to produce high-quality, dependable stainless steel parts for a wide variety of applications and industries.
How Reading Plastic Overcomes the Challenges of CNC Machining Stainless Steel
When CNC machining stainless steel parts, one of the most important considerations is preventing machine vibration and tool chatter. "Chatter" is when tools move erratically and forcefully back and forth, which can not only damage the part being machined but the tools as well. To prevent vibration and chatter, we ensure all of the surface connections between tools and tool holders are secure, and that the workpiece is held firmly in place.
We also keep our cutting tools sharp and replace them at the first sign of wear. This ensures accuracy and consistency across every part and prevents cascade failure from chatter. Furthermore, sharp cutting tools help prevent work hardening. One of the reasons why stainless steel is more difficult to CNC machine than regular steel is that its alloying content makes it more prone to work hardening, particularly austenitic and duplex grades. Machinists combat this by carefully choosing the depth of the cuts to prevent the tool from riding in the workpiece.
Lastly, CNC machining stainless steel requires specific lubricants and coolants to ensure clean cuts, prevent tool failure, and encourage chip evacuation. Keeping the workpiece and tools cool helps facilitate faster cutting speeds and heavier cuts while also minimizing tool wear and breakage. Coolants and lubricants are especially important when machining austenitic alloys as their low thermal conductivity causes heat to build-up at the cutting edges.
Stainless Steel CNC Machining Services from Reading Plastic
As a high-end machine shop, Reading Plastic offers a full range of CNC machining services for a wide range of demanding materials, from stainless steel and titanium to the most technical advanced engineering plastics. We specialize in multi-axis CNC turning lathe work that holds tight tolerances (+/-.001) and our standard CNC milling bits range from .010" to 4.0", allowing us to machine your parts as efficiently as possible. With fast cycle times and consistently accurate results, we can deliver your parts on time and on spec.
Have a project in mind? Contact us today at (610) 926-3245 or site2@readingplastic.com.