Reading Plastic & Metal has decades of experience machining precision plastic parts. Our wealth of expertise distinguishes us a superior parts supplier for plastic valve manufacturers. Our advanced capabilities allow us to machine parts for a full valve portfolio, whether valves are intended for medical, aerospace, or industrial applications. Experienced in working with the most cutting-edge plastics available today, our valve parts enable safe and fast-switching in even the most rigorous environments. We are accustomed to meeting rigorous compliance standards and holding close tolerances that other companies have failed to meet.
Plastic Valves in Various Fields
One of the most common materials for valves is industrial plastics. These plastics are uniquely designed to meet the ever-expanding needs of various industries, with new materials constantly being introduced to reach niche markets. Across all of the fields we manufacture for, plastic valves are used in many different fashions.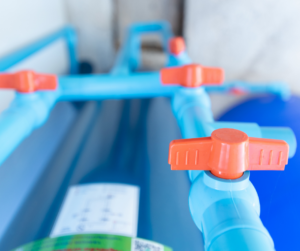 Agriculture: Pinch valves and irrigation control valves are common components in the agriculture industry. The wear and corrosion resistance of industrial plastics makes for the perfect, long-term solution.
Aviation/Aerospace: Ball valves are often used in turbines. The strength and impact resistance of a plastic industrial valve withstands harsh conditions with ease.
Oil & Gas: Control valves are used in the oil and gas industries to provide process control over flow rate, pressure, and temperature. Our plastics' superior heat resistance is perfect for this application.
Waste Management: Wastewater treatment plants are challenging environments due to constant moisture and severe chemical processes. The low porosity and high chemical resistance of plastics keeps them from absorbing the heavy presence of contaminants, helping produce safer, more efficient waste treatment facilities.
Choose Reading Plastic & Metal is the Best of Plastic Valve Manufacturers
At Reading Plastic, we specialize in tight tolerance machining of high-performance industrial plastics. With our fleet of state-of-the-art equipment we can deliver precision machining of even the most technical plastics. All of our equipment is ISO 9001:2015 certified, allowing us to deliver precision, high-volume orders with fast turnarounds. We offer a full range of CNC machining, as well as die stamping and cutting, and fabrication services. We can also perform post-processing for 3D printed parts and we deliver OEM replicate parts to keep your business running.
If you have a project in mind in need of plastic valves, contact us today at 610-926-3245 or email site2@readingplastic.com. No matter how demanding your application, we can machine you a solution!