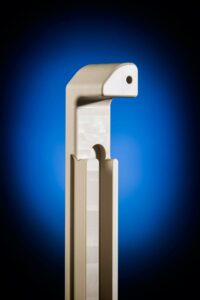 Medical grade plastics have unique characteristics that make them the ideal material for the medical devices, tools and equipment that doctors, nurses and surgeons use on a daily basis. With high wear, temperature and corrosion resistance, these materials can withstand constant use and repeated sterilizations without breaking down or posing a danger to patients. Medical grade plastics can be found in everything from hospital beds and surgical tubing to MRI machines and medical implants.
The Benefits of Medical Grade Plastics
Medical grade plastics' unique beneficial properties include:
Antistatic plastics for inhalers, oxygen tubing and surgical equipment.
Sterilization resistance, whether done through steam autoclave, radiation, vaporized hydrogen peroxide, ethylene oxide, or more.
Structural integrity for high strength, stiffness and impact resistance.
High strength to weight ratio makes it the perfect lightweight substitute for metal.
Antimicrobial properties protect medical grade plastics from the damaging effects of microorganisms and stop the spread of mold, fungi, algae and other microbes that can cause odors, discoloration, and polymer degradation.
Biocompatible medical grade plastics are chemically inert and therefore don't interact with the environment of the human body, so they can be used without the risk of toxic or allergic reactions. Biocompatibility is especially important for implanted devices as the body will not reject these devices and the plastics will not leak any harmful chemicals into the body.
The biocompatibility of medical grade plastics is broken down into three categories: non-contact, short-term contact, and long-term contact. Non-contact items would be things such as syringes, glucose bag drips and blood storage bags, and this is where plastics such as polyethylene, polyamide and polystyrene are used. The short-term contact category covers catheters, feeding and drainage tubes, and surgical instruments. PEEK, Teflon®, polyethylene and polypropylene are common choices for short-term contact medical devices. Lastly, long-term contact is where we find insulin pumps, bone and joint replacement, and medical implants. Top medical grade plastics for long-term contact include polyethylene, UHMW, polysulfone and hydrogels.
We Offer Precision Machining of Medical Grade Plastics
At Reading Plastic, our expert staff can machine precision parts and tools from a wide variety of medical grade plastics, including:
Acetal copolymer
Celcon®
Delrin®
Halar®
Kynar® (PVDF)
Noryl® (PPO)
PEEK
Polycarbonate
Polypropylene
Polysulfone
Radel®
Teflon®
UHMW (Ultra High Molecular Weight) PE
Ultem®
We excel at tight tolerances, are ISO 9001:2015 certified and can meet all FDA standards. Our clients also benefit from our decades of plastic experience, as we know firsthand how these plastics behave and can recommend the right medical grade plastic for your application. Whether you need to improve performance, reduce weight, or lower costs, we can help you meet your goals.
Have a project in mind? Call us today at (610) 926-3245 or email us at site2@readingplastic.com.