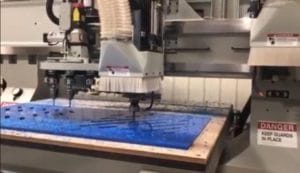 At Reading Plastic, our commitment to quality and precision has made us a top CNC machined components supplier in the U.S. Serving clients from coast to coast and around the world, we have machined dependable plastic components for nearly every industry. Our expert staff and fleet of world-class machines allow us to deliver the parts our clients need, on spec and on time. If you need reliable parts that can hold tight tolerances, choose Reading Plastic.
What Makes Reading Plastic a Top CNC Machined Components Supplier?
State-of-the art equipment: In our shop you will find immaculately maintained machines, ultra-precise cutting tools, and the latest technologies. We are constantly adding new machines to increase our capabilities and better serve our clients, such as the NHX 4000, our first horizontal machining center (HMC). HMCs deliver shorter processing times through continuous machining, mass production capabilities, three-sided machining, and more effective machining of complex parts. Other stars of our fleet include:
Mycenter-2XD "Sparkchanger" Vertical Machining Center – a breakthrough solution for small to medium high-volume production part processes
Miyano BNA-42S – a CNC turning center capable of greater efficiency and tighter tolerances (we achieved +/-.0002 and 100% burr-free for one client)
EXACCT Plus 116 TC2 – setting a new standard of CNC accuracy and high-speed machining performance, this machine can handle heavy-duty CNC machining of a wide variety of materials and thicknesses, producing parts up to 63" x 63"
Tight tolerances and precision machining: At Reading Plastic, tight tolerances are in our wheelhouse. We factor in material properties and end-use environments to machine your parts right where they need to be. Our CNC milling machines are capable of producing complex geometries, tolerances of +/-.001, and surface finishes as smooth as 15Ra. Our saws combine ultra-fast cutting speed with pinpoint accuracy to deliver perfectly shaped pieces on tight deadlines, and they can cut even the most technical plastics. Our CNC routers can turn out hundreds or thousands of identical parts fast and handle oversized specialty parts up to 127" x 80" x 9".
Fast turnaround and delivery: Our shop in Reading, PA, is conveniently located within a day's drive of a third of the U.S. population. This means your parts are delivered quickly, without the delays and expense of international shipping. We also fine-tune our production schedules daily to make sure our parts are always on time. We even offer rush production and delivery for critical situations.
Advanced material solutions: Our expert staff know how to successfully machine the most technical materials, including Teflon®, PEEK, Ultem®, UHMW, Vespel®, and Celazole PBI. We also have hands-on knowledge about how these materials perform in a variety of settings, so we can help our clients choose the right material for their application. No matter how harsh the environment or demanding the application, we can machine a solution.
Make Reading Plastic Your CNC Machined Component Supplier
Over the years we have machined a wide variety of components for nearly every industry, including:
From original parts to OEM replacements, we can machine the precise, dependable parts you need. Have a project in mind? Contact us today at (610) 926-3245 or site2@readingplastic.com.