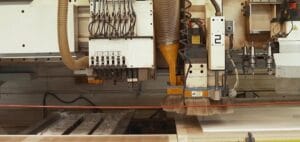 Industrial plastics are materials that are specially designed for industrial applications, such as valves, bearings, seals, rollers and more. These plastics are uniquely designed to meet the ever-expanding needs of various industries, with new materials constantly being introduced to reach niche markets. Industrial plastics provide solutions to specific application demands, such as:
At Reading Plastic, we specialize in tight tolerance machining of high-performance industrial plastics. With our fleet of state-of-the-art equipment we can deliver precision machining of even the most technical plastics. All of our equipment is ISO 9001:2015 certified, allowing us to deliver precision, high-volume orders with fast turnarounds. We offer a full range of CNC machining, as well as die stamping and cutting, and fabrication services. We can also perform post-processing for 3D printed parts and we deliver OEM replicate parts to keep your business running.
CNC Machining Services We Offer
CNC Routing – With our vacuum-secured routing system we can turn out hundreds or thousands of identical parts fast. Our machines use standard milling bits from .010" to 4.0" to complete your job as efficiently as possible. We are also experts at routing with speciality bits for the most advanced industrial plastics, such as UHMW and Ultem®.
CNC Cutting – Our expertise means we can cut any plastic, no matter how technical. Save time, money and wasted material by having us deliver plastic material directly to you in the precise size you need.
CNC Turning – We excel at multi-axis lathe work that holds extremely tight tolerances.We use the latest CAD/CAM techniques and software to produce world-class precision-turned parts, and our machines offer supercharged efficiency and unmatched precision.
CNC Milling – With our machines we can achieve extremely tight tolerances (+/- .001) and surface finishes as smooth as 15Ra. CNC milling delivers complex geometries and smooth surface textures that can't be achieved through other methods. We can also perform secondary post-milling operations to save you time and lower your production costs, such as adding threads, finishing through-bores, mounting surfaces and branding parts with hot stamping or silk screening.
We Deliver Reliable Industrial Plastic Parts
Reading Plastic has been delivering dependable precision parts for nearly four decades. We machine parts for every industry, from medical and military to food and aerospace. Our ever-expanding materials list includes high demand industrial plastics such as:
If you have a project in mind, contact us today at 610-926-3245 or site2@readingplastic.com. No matter your needs, we can machine you a solution.